OUR APPROACH
Minimalist design, without being sparse. Thin, without being skinny. Practical, yet elegant. Employee satisfaction maximized, employee errors minimized. Mobility enhanced, security not forgotten.
The inspiration behind Turncloud's design was to find the most efficient path in covering a day in the life of a chiropractic office. Strip away anything not essential. Make everyday functions simpler. Create such an intuitive application, no one needs a "user manual".
Back our claims up with unlimited training and support. Protect your office from insurance companies and outside attacks. Provide solid value. Impress you with our collective effort on your behalf.
PRICING
Monthly: $77/mo
One-Time Setup: $2,000
Limited Time Offer – Setup Fee Waived
Turncloud Complete Package

Unlimited Doctors/Providers (same office)

Unlimited Use Technical Support

Setup of Offline Automated Backups

All Compliance & New Feature Updates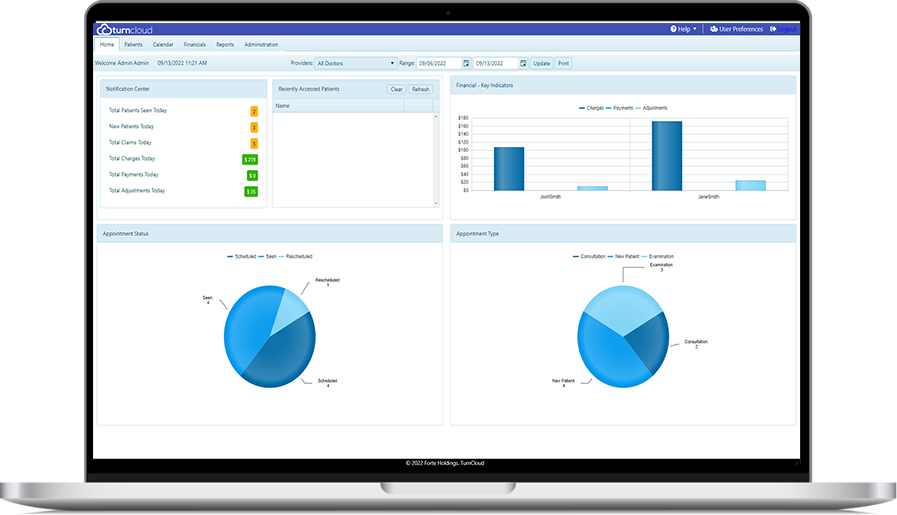 KIND WORDS
"I am amazed at employee efforts to make sure that all of my questions are answered, and should I need further assistance, that my call would be welcomed."
"Thank you for caring enough about your clients to hire such good, friendly, and courteous employees."
"The software has helped me reach my clinic goals by keeping info organized."
"I want to let you know how pleased I was with the professionalism, courtesy, and knowledge I received from your technician. I wanted to thank him for his great representation of your company."
"Thank you so very much for your prompt customer support. Just would like to thank you and all the other members of tech support for all the help given to me. Your explanation and detail to all the question is greatly appreciated. Very nice to work with someone so knowledgeable in what they are doing."
QUESTIONS? READY TO GET STARTED?
800-456-2622  |  info@turncloud.com